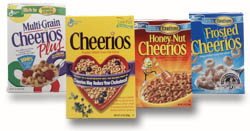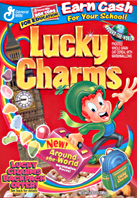 Lucky Charms vs. Cheerios
TITLE: Lucky Charms vs. Cheerios
AUTHORS: Cassie & Kristi
AUTHOR'S NOTE: Warning... 1:30am... =)Please comments, and if you see a mistake, please inform us. Oh and...we only know how to write in script form (Thank you Vince Gilligan for "Paper Hearts" scripts-The Six Philes of Separation, thank you John Shiban for "S.R. 819", "Monday", and "The Pine Bluff Variant"- Cassie,and Kristi, thank you Frank Spotnitz for "Detour"-Kristi.
DISCLAIMER: We don't own "Lucky Charms", "Cheerios", Fox Mulder, Alex Krycek, or Milk... but... 'Cashier Man'(aka: Bob) is ours. Oh yeah, we don't own the FBI.
DATE: October 18, 1999
RATING: We don't know...
SPOILERS:Fight The Future.
---
FADE IN:
INTERIOR. MULDER'S APPARTMENT - 4:20 A.M.
We see Mulder's hand reach for the phone... he needs a ride to the grocery store. He calls Krycek.
MULDER
I need a ride.

KRYCEK
(filtered)
Do you have any idea what time it is?!
Mulder looks confused. He hasn't looked at the time yet. He woke up hungry and thought he needed food... his car broke down from a slashed tire...
CUT TO:
INTERIOR. KRYCEK'S BEDROOM
TIGHT ANGLE ON KRYCEK
We see his messy hair... he does sleep... speaking into the phone...
KRYCEK
It's almost 4:30 in the morning.
CUT TO:
INTERIOR. MULDER'S APPARTMENT
TIGHT ANGLE ON MULDER
He is now sitting up in bed... no shirt on... messy hair.
MULDER
My watch says it's 10 am...
KRYCEK
(disbelief)
Oh. My. God.
(beat) Mulder?
Is your watch on ...
backwards?

MULDER
(off Krycek's beat)
What? Who cares what time it is (beat)
I need my Lucky Charms.
Mulder stands up and turns on his light ... he is squinting with his beautiful eyes ... the light is bright for a rainy morning. We here a low rumble of thunder ... he looks out the window ...
MULDER
Looks like you're gonna have to come get me.


KRYCEK
What?!

MULDER
Someone slashed my tires (beat)
You're gonna have to pick me up.
Off this statement... we FADE OUT:
END OF ACT ONE
---
FADE IN:

The first thing we hear is pouring rain and thunder.

INTERIOR. HAPPY GILLIGAN'S GROCERIES - 5:00 A.M.

We see... The Cashier Man... Bob... he is spacing out. He's a teenager, short, red hair, he is wearing an apron that says in big blue letters "Happy Gilligan's Employee".

POV OF BOB

Mulder and Krycek running through the rain because Krycek parked far away... on purpose. Little did he know, he would have to go in because Mulder doesn't have any money...

Door slams open. Mulder is wet and is wearing The Awesome Leather Jacket... Krycek takes his hood off... glares at Mulder. Poor Bob has to say something to them...

BOB
(unenthousiastic, tired)
Welcome to Happy Gilligan's,
how may I help you.

Mulder looks at him... he is desperate for his Lucky Charms.

MULDER
(psychoticly)
Lucky Charms!

BOB
(pointing, making no attempt to move)
Cereal.

Mulder grabs Krycek's arm ... the prosthetic one ... and drags him to the cereal section ... Krycek rolls his eyes. Mulder reminds us of a little boy on a mission to find the toy in the cereal box.

MULDER
Where is it?!

KRYCEK
How about Cheerios?


Mulder looks at Krycek as if he were the insane one! And starts to violently rummage through the cereal boxes ... there is one "Lucky Charms" box ... and it has expired past it's freshness date. Mulder holds the box out in front of him, as if he has conquered the world. Off his proud look ....

KRYCEK
Let's go.

Krycek starts to walk towards the register ... with the fresh box of Cheerios. Mulder pissed off, starts running towards him ... gun drawn.

MULDER
NO-OOOOOOOOOO!!!

Off this, Mulder starts to randomly shoot his gun towards Krycek ... missing, but he doesn't miss all of the other cereal boxes. Cereal is flying everywhere, Krycek is dodging this insanity. Mulder accidentally drops the box of "Lucky Charms", Krycek pulls out his gun and shoots the box of stale "Lucky Charms". Mulder doesn't notice yet. After a few scary moments of Mulder shooting his gun and continuosly screaming "NO-OOOOOOO!", his gun runs out of bullets, and he keeps shooting. Realizing there is probably 2 or 3 boxes of cereal left, he turns around to find his "Lucky Charms", but only to find scattered wrecks of it mixed in with Cheerios, Chex, Oatmeal, Trix, etc, etc. Off his pained look ...

KRYCEK
Like I said.
We're leaving.

MULDER
What happened to my
"Lucky Charms"?

KRYCEK
It didn't survive
your rampage ...
I accidentally shot it
... self-defense.

MULDER
What are you getting?

KRYCEK
Cheerios.

MULDER
But, I don't like bees.

KRYCEK
(making fun of Mulder and
his near kiss with Scully)
But Scully does.

MULDER
(looking pissed)
What do you mean by that?!

Krycek calmly, as if nothing just happened with weapons, and an argument over cereal, walks towards BOB, to pay for his Cheerios. Poor Mulder will have to live with that until he finds the end of his rainbow. After Krycek hands BOB the money, Mulder and Krycek run back to the car, leaving BOB with a horrible mess of cereal. But BOB, being the lazy person that he is, looks at the mess, unties his apron, and walks out of HAPPY GILLIGAN'S GROCERIES.

With this we FADE OUT.
THE END